Description
Industrial Ethernet/Fieldbus serial communication I/O for Smart Factory
Multiple I/O distribution control using PLCs and industrial PCs.
Coupler: available in 8 different communication protocols
: EtherCAT, CC-Link, ProfiNet, ProfiBus, EtherNet/IP, DeviceNet, Mobus TCP compatible, Modbus RTU compatible
Module: various input/output modules, power module
: Remote bus I/O power, digital input/output (4/8 channels), analog input/output (2/4 channels)
: Expandable up to 64 modules (may vary by communication type)
Hot-swap feature
: Terminal and body units can be removed/swapped during operation for easy maintenance
Push-in connection method: easy wire connection without requiring additional tools
Comprehensive device management software DAQMaster for improved convenience
: Module settings, real-time control/monitoring/diagnosis of input/output signals
Virtual mode allows simulation of product set up and offers set up recommendations
Modular Remote I/O featuring Communication Coupler and I/O Modules
ARIO series is a modular type remote I/O with swappable communication coupler and I/O modules. Users can swap communication protocol or expand I/O depending on user requirements.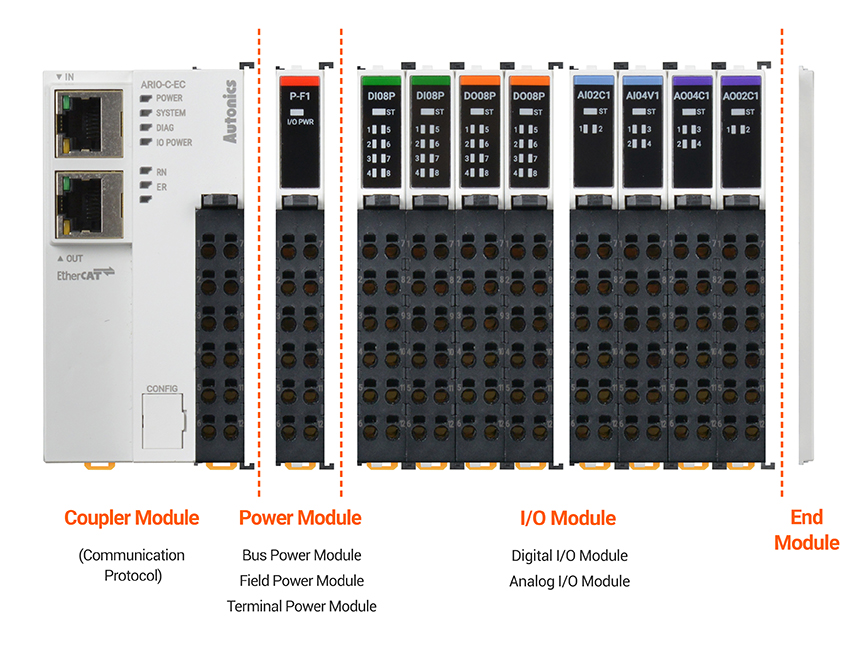 Diverse Communication Protocol and I/O Control for Flexible Application
8 different communication protocols (EtherCAT, CC-Link, ProfiNet, ProfiBus, EtherNet/IP, DeviceNet, Mobus TCP, Modbus RTU) and 21 different expansion modules (I/O module, power module) are available for flexible application of diverse I/O or communication. The units can be expanded up to 64 modules.

Slim Size Measuring Only 12 mm Wide
The I/O modules measure only W 12 mm x H 100 mm x L 70 mm, allowing space-saving installation.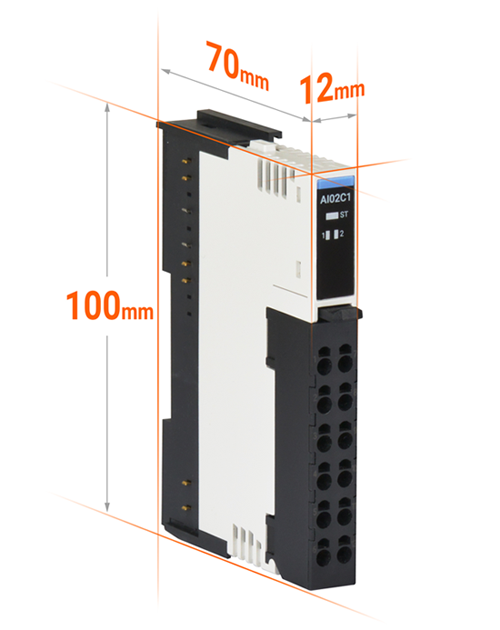 Easy Wiring Method Offering Fast and Secure Connection
Single wire or crimp terminal (ferrule) wires can be connected using push-in connection method without any additional tools. Users can save time during wiring and secure connection is guaranteed regardless of wiring experience.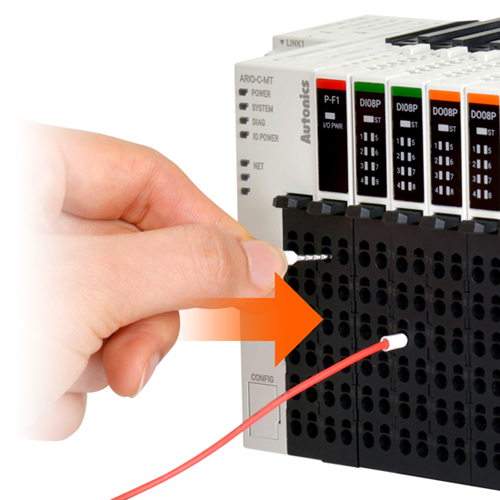 Hot Swap Feature Allows Easy Maintenance During Operation
While the system (coupler and I/O module set up) is still operating, the terminal unit and the body (control) unit can be removed and swapped from the base (communication) unit. The power and communication will continue operating, allowing easy maintenance. Previous settings can also be restored automatically.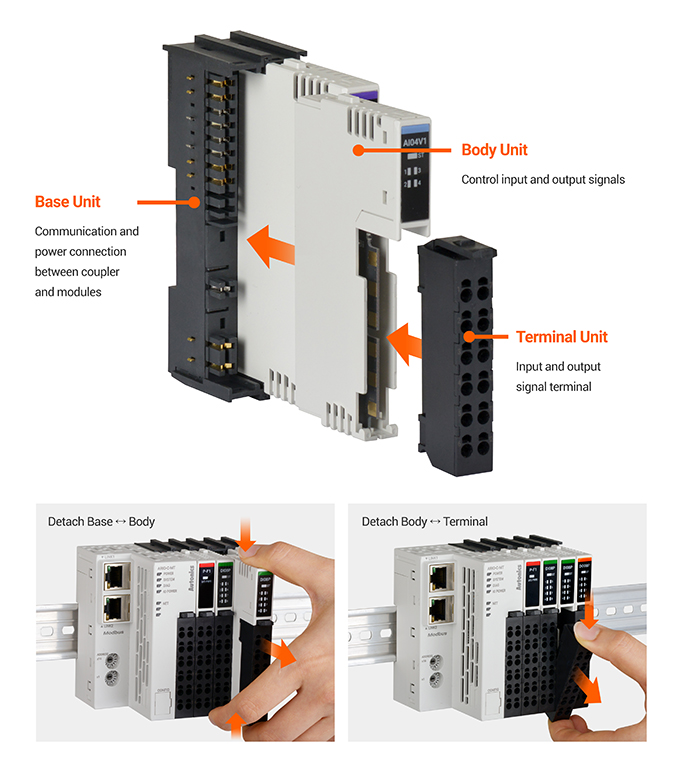 Self-Diagnostic Function
A system composed of coupler and modules can check the status of the system using the self-diagnostic function through the field network master or a dedicated software. The diagnostic function allows the units to check for error location, type, and status and try to solve or fix the errors automatically.
except ARIO-C-PN, ARIO-C-PB models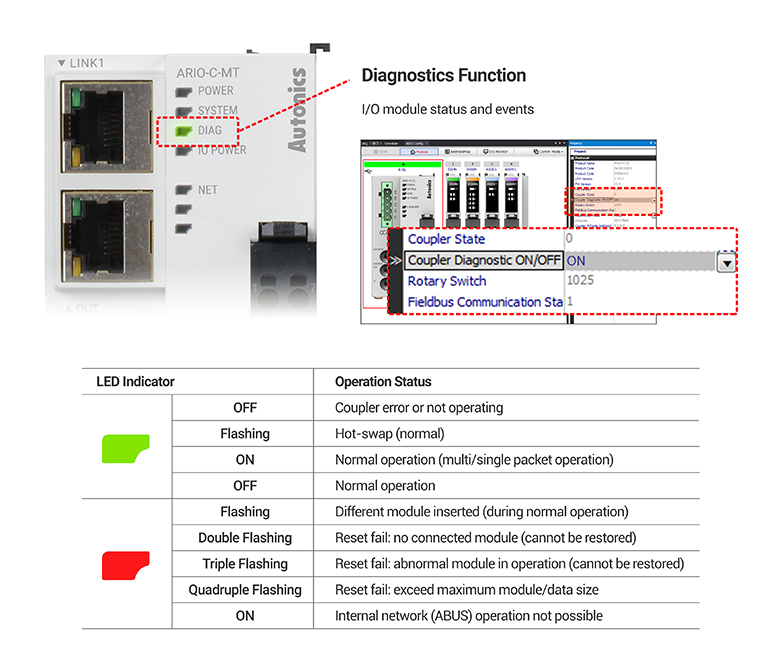 LED Indicator for Power and Operation Status
Users can easily check the power status for coupler and I/O modules, operation status of I/O modules and the number of I/O channels through the LED status indicators.
Safe and Secure Installation with DIN Rail Lock
The DIN rail lock on the rear allows safe and secure installation on 35 mm DIN rails.
Installation Order (Left  Right): Coupler – Module (up to 64 units) – End Module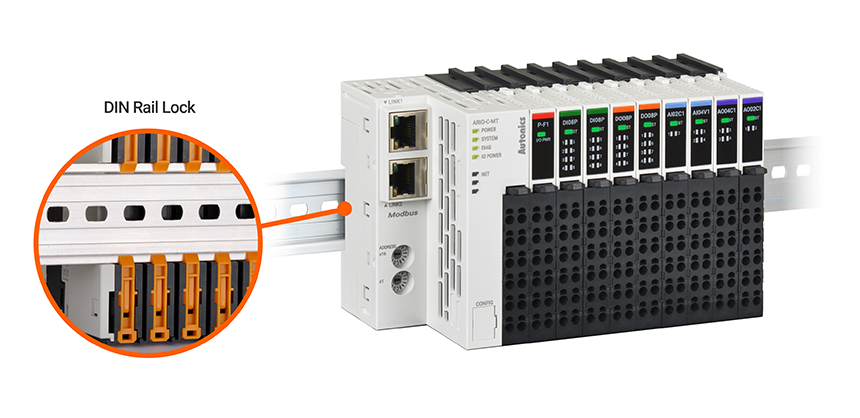 Videos